Foxbright Budget Badge Script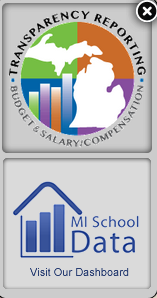 In order to facilitate compliance with the new Michigan state requirements, which require a Budget Transparency Badge appear in the upper half of all school and ISD/RESA home pages, Foxbright has developed a method of putting this on your home page. This method has the following advantages:
It does not require any home page design modifications
Once a website visitor chooses to close the badge it remains closed indefinitely (or until they open it again) so that it does not intrude on the site.
It has been reviewed and approved by the Michigan Department of Education
MI School Dashboard
The Michigan Department of Education recently created incentives for districts complying with certain Best Practices. One of those involved linking to a school dashboard - as described by the following:
"To meet Requirement E - The school board shall agree to provide a link on the district's home page to the url for the MI School Data Portal which will eventually contain the required dashboard indicators pursuant to Section 22f(1)(e)."
Guidance on Financial Best Practices as Defined in MCL 388.1618
Support
This code is being provided "as is" without any support included.
License Agreement

You may use the Foxbright Budget Badge Script on your website to comply with the State of Michigan's new Budget Transparency Requirements for all school websites
You may NOT distribute or republish this script, even if you make modifications to it. The script can only be distributed by the author, Foxbright.
The script and HTML code are provided "as is", without warranty of any kind, not even the implied warranty of merchantability or fitness for a particular purpose. You agree to bear all risks and liabilities arising from the use of this script.
If you cannot agree to any of the above conditions, you may not use this service nor any of the scripts and HTML code.
Installation Instructions

Extract the contents of the zip file to a directory on your web site's server
Edit the file budgetBadge.js and change the values of these variables at the top of the file:
budgetBadgeDirectory - the absolute path to the directory containing Budget Badge script
budgetInfoPage - the absolute path of the budget information web page on your site
Open the file test.htm from the budgetBadge directory in your browser. If the budget badge is displayed, continue to step 4, otherwise check previous steps.
Add the following line into the HEAD section of your web site's home page inserting the absolute path to the file budgetBadge.js
Download
Revised Budget Badge - November 2017
Download November 2017 Version (.zip format)
Old Budget Badge
Download in .zip format (~35kB)
Download without the MI School Dashboard in .zip format (~ 24kB)
We'd love to hear from you
Book a Demo or Get a Quote today and start communicating more successfully