We build
smarter

school websites

Foxbright provides website design and hosting for K-12 schools, districts, and the educational organizations that support them.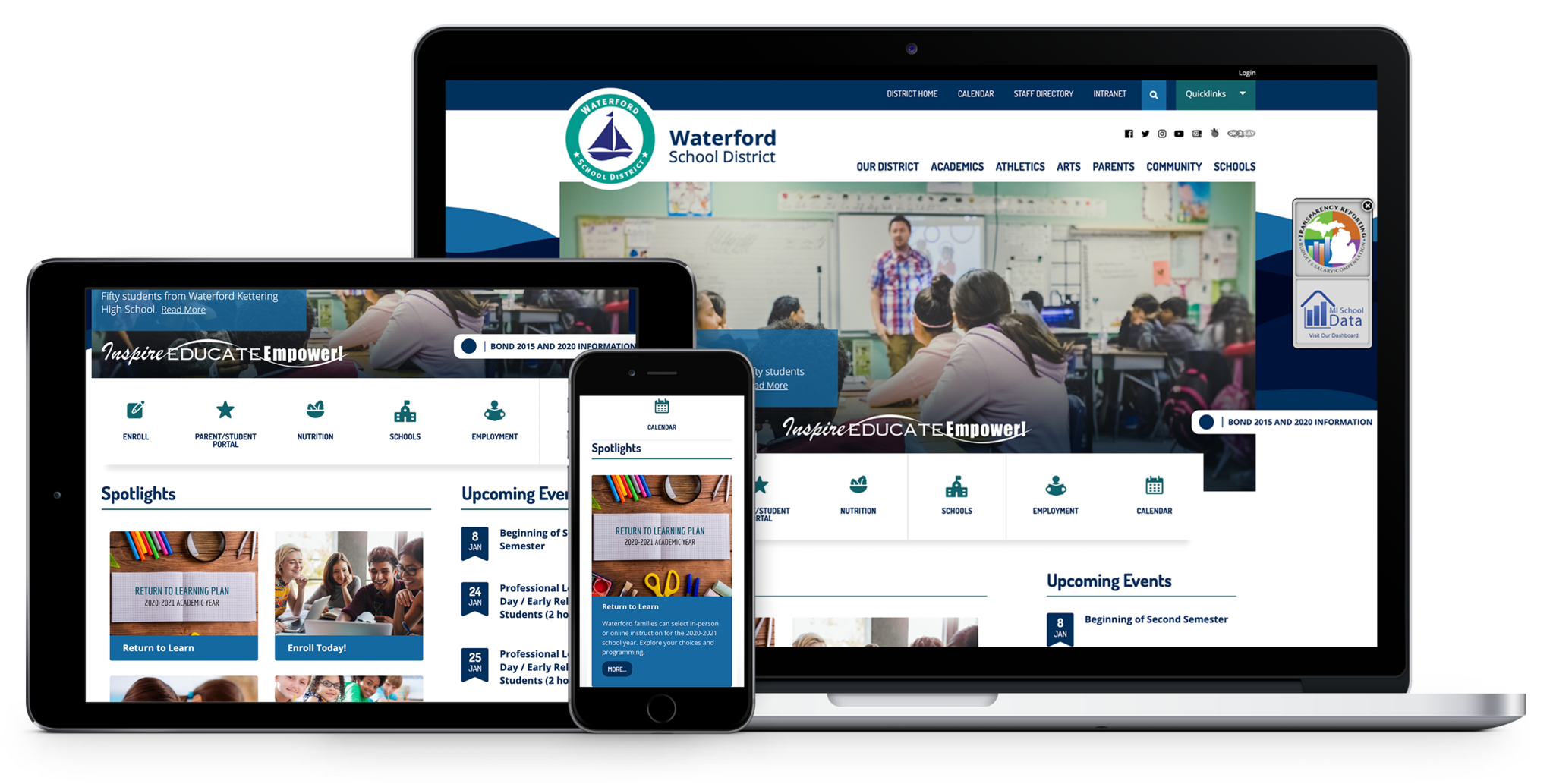 At Foxbright, we help you
communicate more successfully
We combine a process-driven approach with our proprietary content management solution; the result is a dramatic improvement in the form and function of school websites. Your website will look better, communicate more successfully, and be put to its best use, quickly and cost-effectively.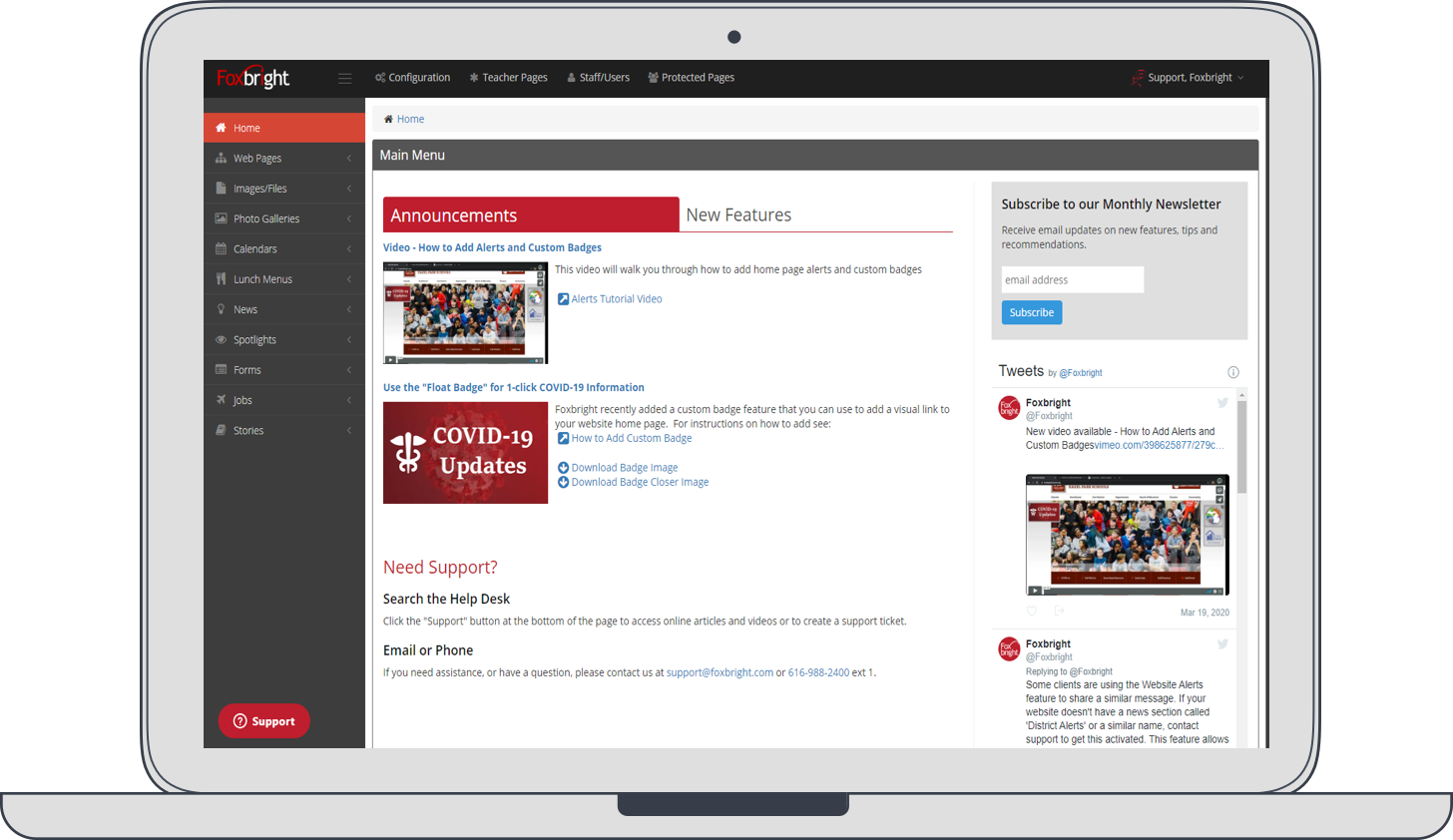 Easy-to-Use CMS
MAKE CHANGES WHEN YOU WANT
Say goodbye to inflexible websites. With our Content Management System's (CMS) clean, easy-to-use design and WYSIWYG features, you'll be able to update anything you want, when you want.
Bishop T.K. Gorman Catholic School
"The new CMS is much improved and I'm impressed with you and your team. Everything I requested was completed to exact specifications and at a reasonable price. Great job."
Madison County Schools, GA
"Thanks to the entire Foxbright Team for the patience and help through the years. It has been a good working relationship, and I'm sure it will continue to be so."
Vicksburg Community Schools
"Our Head of Technology and myself both marveled at how thorough, seamless, simple, and cost efficient the site transfer process was last Fall and at how easy it is to maintain and change the site to fit our needs. Thank you for all you do to help us look good! :-) "
Saline Schools
"The PD yesterday was awesome! The hybrid you did for us was great. It was short, quick and covered the areas we wanted to in a short time. Thank you for being flexible and rolling with our PD style yesterday. Excited to be ADA compliant :) "
Walled Lake Consolidated School District
"We interviewed a number of providers to find the best fit for the district. The clear winner was Foxbright. Our switch, transition and change to Foxbright was smooth. Foxbright was responsive, strategic and timely in the plan to make the change."
Blissfield Community Schools
"We have used Foxbright for almost 9 years now and have had a great working relationship with them. Responses are always quick and courteous."
Saline Schools
"When any issue comes up, the Foxbright support team is only an email or phone call away. They always respond very quickly to the issues which wasn't our experience with our last website vendor."
Unionville-Sebewaing Area Schools
"Thank you for all your help with getting us on the right track on our webpage redesign endeavor. We have accomplished a monumental amount of change in a short period of time, with your help. I am very happy with the teamwork of your organization. "
Kent ISD
"Foxbright is a technology company that knows how to communicate, rather than a communication company that dabbles in technology."
Wayland Union Schools
"Our experience in working with Foxbright to create the new website was wonderful from start to finish. We finished the project under schedule and our parents, staff and community are happy with the new site."
Byron Center Public Schools
"We are very happy with this organization. They are great to work with! Sharp group of professionals and always helpful."
Grosse Ile Township Schools
"Foxbright gave us excellent guidance on putting together a website that works well, is easy to update, projects a highly professional image, and enables us to tout the benefits of Grosse Ile living."
Unionville-Sebewaing Area Schools
"We have integrated Schedule Star, Dynacal, Google For Education, Facebook and ICal Feeds seamlessly."
Mona Shores Public Schools
"Before we partnered with Foxbright, our website was home grown, and it showed."
Blissfield Community Schools
"We recently did a redesign of our website and we are so pleased with the new web interface. Their interface is easy to use and intuitive. Foxbright continues to keep up with the trends and over the past 9 years there have been many new features and functions."
Muskegon Area ISD
"We been very satisfied with the quality and flexibility of Foxbright's CMS. We continue to enjoy a positive and creative partnership with Foxbright and look forward to implementing new features."
Southfield Public Schools
"It has been a joy and a pleasure to work with Foxbright because they are such a responsive company. "
St. Clair County RESA
"We wanted a site that had a professional, corporate-style design and was easy for visitors to navigate. Foxbright delivered on all of those requirements very well."
Unionville-Sebewaing Area Schools
"We look forward to a long and lasting relationship with your organization. We appreciate your help, your attentiveness to our request for enhancements have been greatly appreciated. I just want to take a moment and thank you and your staff for all your help."
Walled Lake Consolidated School District
"Our switch, transition and change to Foxbright was smooth. Foxbright was responsive, strategic and timely in the plan to make the change."
Huron Valley Schools
"We are another very satisfied customer!"
Trying to find the right balance
between features and ease of use?
Foxbright can help you implement your vision in the easiest way possible. We follow a strict methodology to ensure project success. Foxbright will re-architect your website for you based upon your communication needs.
Unlimited Customer Support
Have a question or a problem? Give us a shout or drop us an email. Looking for ideas on how to best present content? We can help with that as well.
Enterprise Scale
Manage hundreds of users and multiple building or program websites from one location. Need different designs for each? No problem.
Responsive Design
Looking for ideas? View some of our work for Schools & Educational Organizations.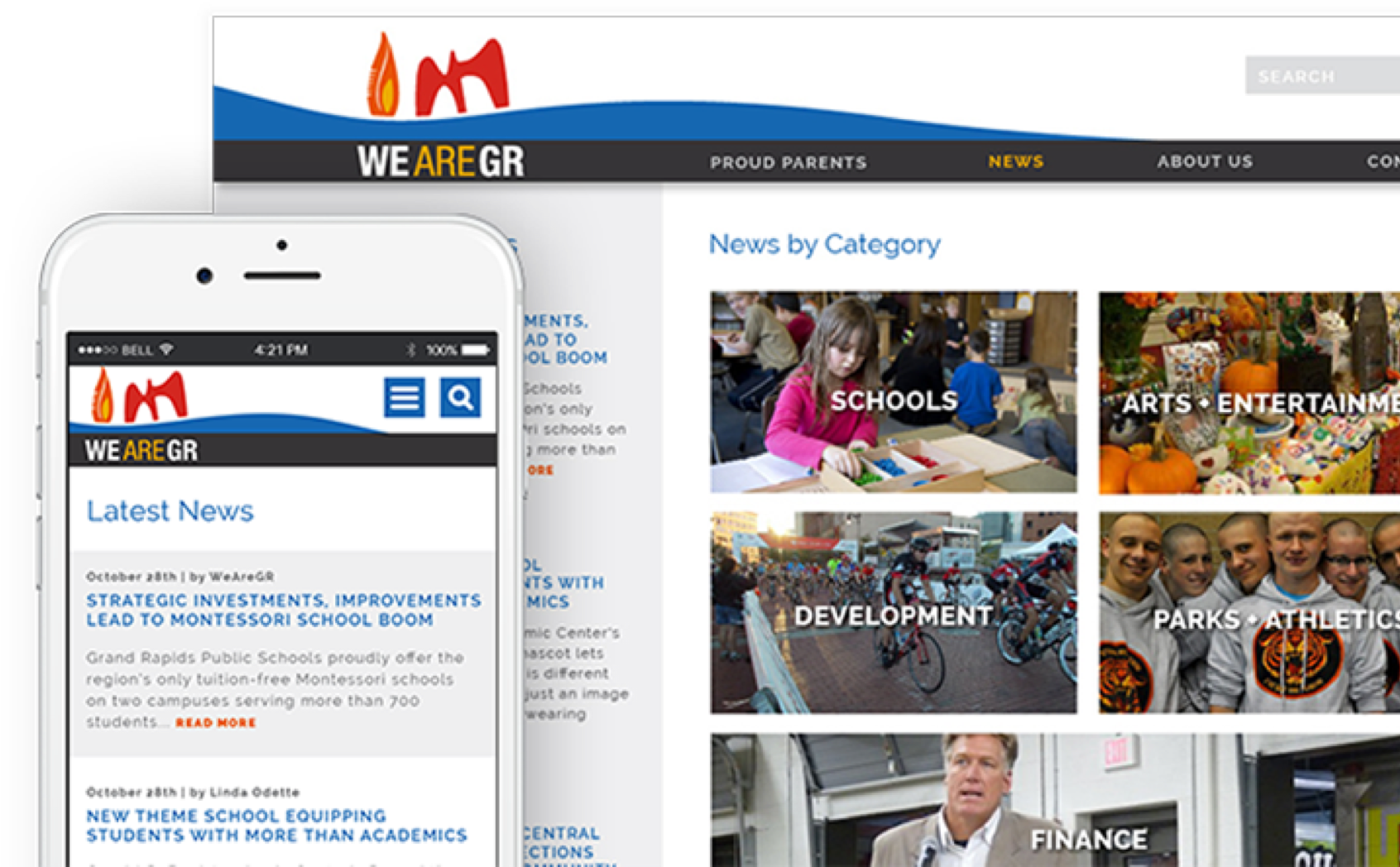 We'd love to hear from you
Book a Demo or Get a Quote today and start communicating more successfully