Mass Notifications & Alerts
Multi-platform notifications to make sure you reach the right people at the right time.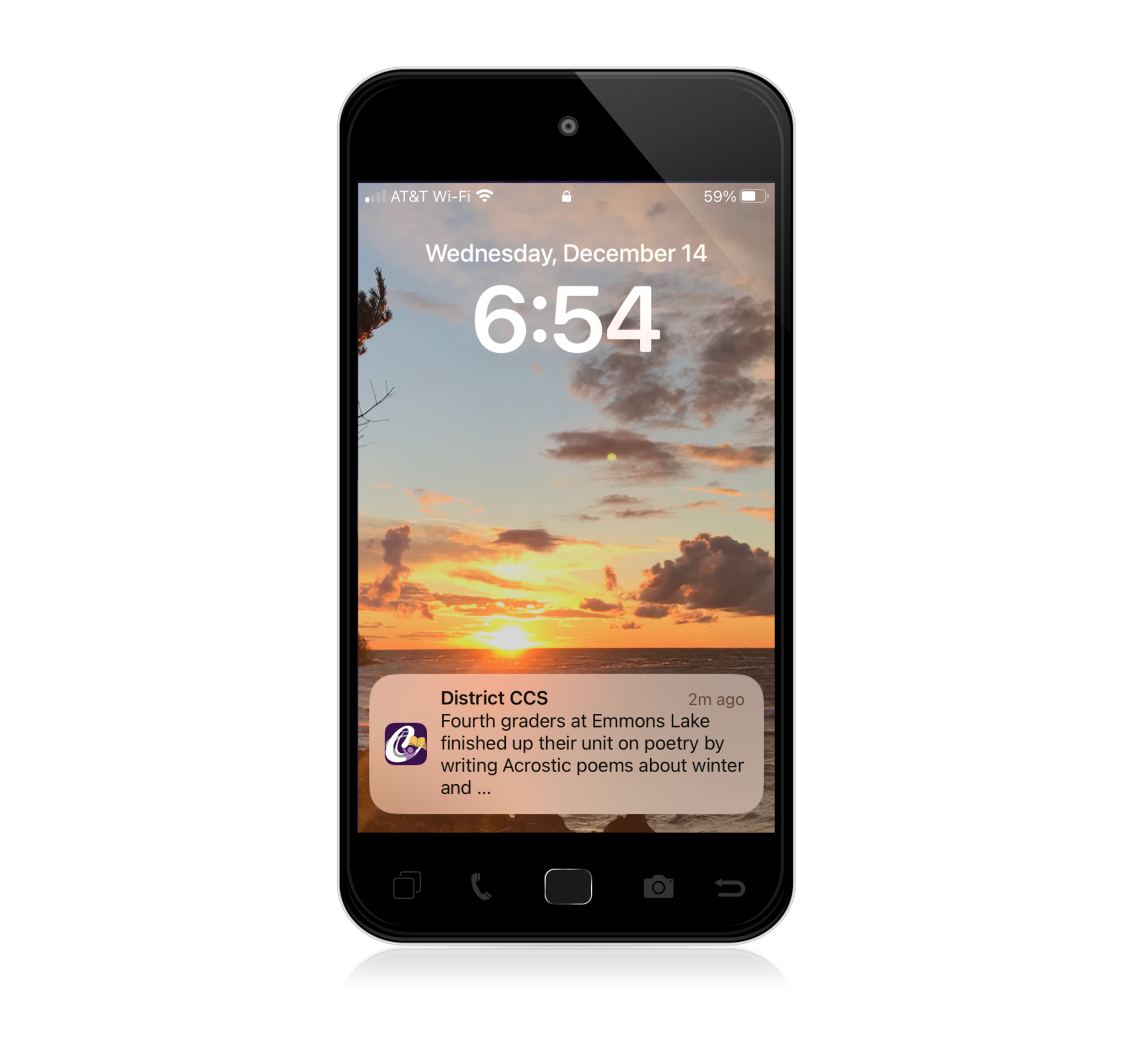 Reach everyone you need to at the right time and the right place
Increase student attendance, collect funds, reduce administrative tasks, and send information out fast. The Mass Notification feature is designed for district and school-wide communication and can reach all parents in your student information system, not just those who install the app.
Automatically connect via:
Email, Text & Voice
App Push Notifications
Social Media
And More!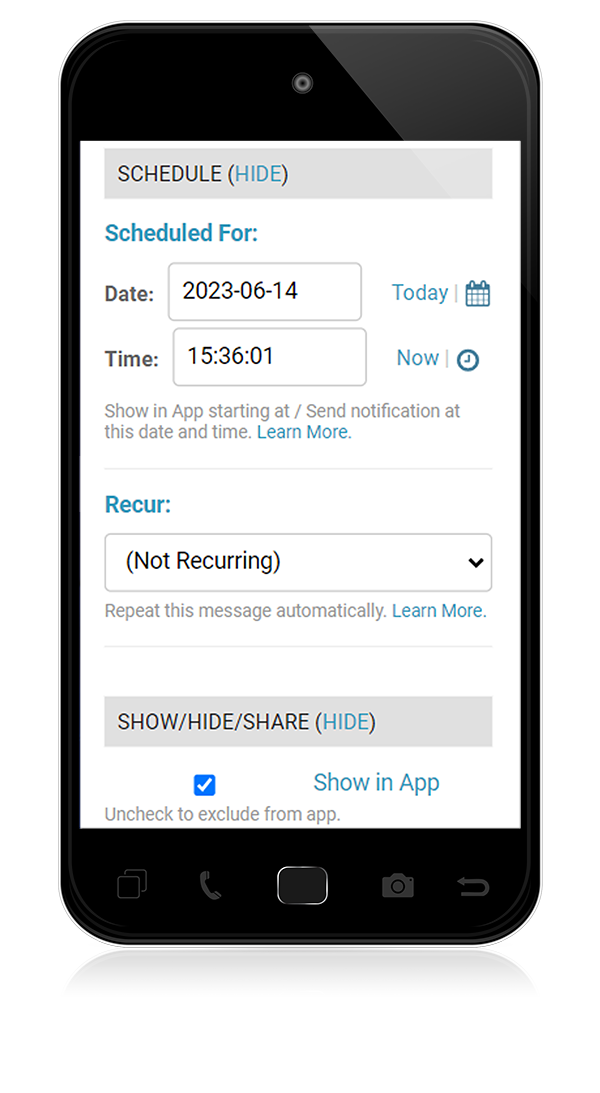 Integrate with your Student Information System (SIS) and Staff Directory to send alerts to all affected community members getting their attention whether they are app users or not.
Staff
Parents/Guardians
Specific Groups
Individuals
Messages can be scheduled to send at a specific day and time and can be recurring. Send messages via each member's preferred method and language.
We work with data from your existing attendance system and support One Roster (and other data formats).
Send messages via each parent's preferred method.
Messages can be sent at a scheduled time.
Messages can be unique for each receipt.
For example:
"This is a message from Foxbright Schools. The lunch account balance for John Smith is $5.39"
The Mass Notification Dashboard provides a robust platform for all your messaging needs.
Customizable dashboard, drag and drop elements to view information the way you prefer
Reporting - show what notifications were sent each day, by school or parent/student. Administrators can manage Do Not Call requests.
Approval routing – allow app users to create messages routed to an admin for approval before posting
Choose whether to allow replies or not to messages
Schedule messages at a specific day and time, create recurring messages
Choose which area code and number you would like text messages to be sent from. Includes USA A2P registration.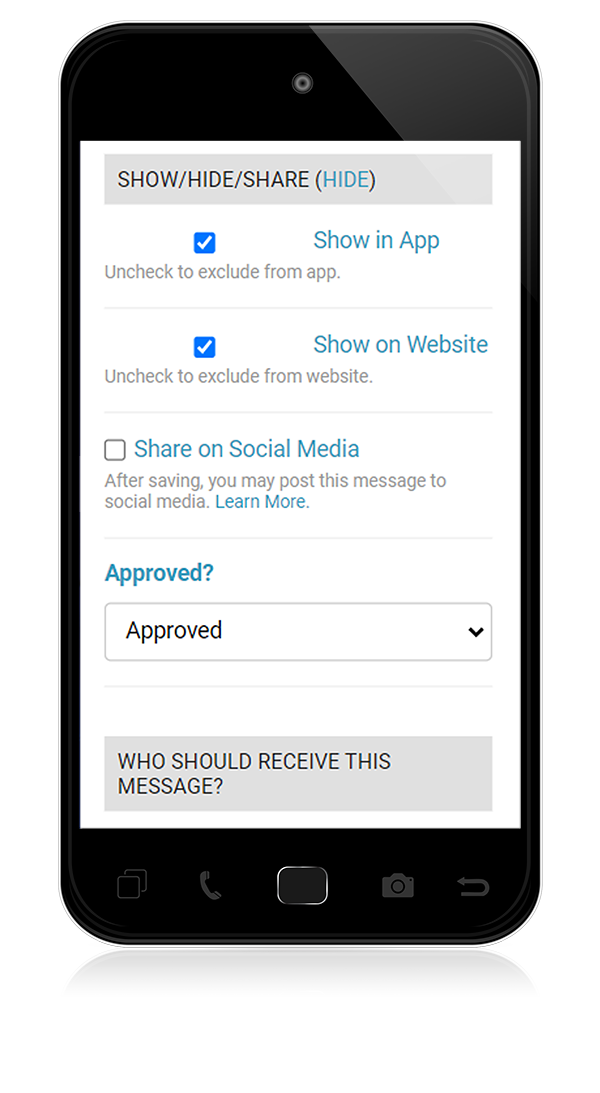 Choose how and where to send your messages all from one platform and all in the users preferred language:
App Push Notifications
SMS Text Messages
Voice Calls
Email
Facebook and Twitter
Website
Digital Signage
What Foxbright Clients Say
- Grand Ledge Public Schools
"Foxbright's client service is second to none!"
- Grand Ledge Public Schools
"For many people, a school district's website often provides the first impression... and those are very powerful and influential. I can not imagine using a different website technology provider – I think Foxbright is tops in so many ways!"
- Vicksburg Community Schools
"Our Head of Technology and I both marveled at how thorough, seamless, simple, and cost-efficient the site transfer process was last Fall and at how easy it is to maintain and change the site to fit our needs. Thank you for all you do to help us look good!"
- Saline Schools
"The PD yesterday was awesome! The hybrid you did for us was great. It was short, quick and covered the areas we wanted to in a short time. Thank you for being flexible and rolling with our PD style yesterday. Excited to be ADA compliant."
- Blissfield Community Schools
"We have used Foxbright for almost 9 years now and have had a great working relationship with them. Responses are always quick and courteous."
- Saline Schools
"When any issue comes up, the Foxbright support team is only an email or phone call away. They always respond very quickly to the issues which wasn't our experience with our last website vendor."
- Kent ISD
"Foxbright is a technology company that knows how to communicate, rather than a communication company that dabbles in technology."
- Wayland Union Schools
"Our experience in working with Foxbright to create the new website was wonderful from start to finish. We finished the project under schedule and our parents, staff and community are happy with the new site."
- Byron Center Public Schools
"We are very happy with this organization. They are great to work with! Sharp group of professionals and always helpful."
- Grosse Ile Township Schools
"Foxbright gave us excellent guidance on putting together a website that works well, is easy to update, projects a highly professional image, and enables us to tout the benefits of Grosse Ile living."
- Mona Shores Public Schools
"Before we partnered with Foxbright, our website was home grown, and it showed."
- Blissfield Community Schools
"We recently did a redesign of our website and we are so pleased with the new web interface. Their interface is easy to use and intuitive. Foxbright continues to keep up with the trends and over the past 9 years there have been many new features and functions."
- Muskegon Area ISD
"We been very satisfied with the quality and flexibility of Foxbright's CMS. We continue to enjoy a positive and creative partnership with Foxbright and look forward to implementing new features."
- Southfield Public Schools
"It has been a joy and a pleasure to work with Foxbright because they are such a responsive company."