Website Management Solutions

A beautifully simple, education-focused CMS is finally here

It's time to take back control of your website. Make changes you want, when you want with Foxbirhgt's easy-to-use Content Management System (CMS).

Easy-to-Use CMS
Say goodbye to inflexible websites. With our CMS you'll be able to update anything you want, when you want. Our sites are easy-to-use, responsive and ADA compliant.

Dedicated Project Manager
Your dedicated project manager works with you to make sure you always have a clear understanding of your project.

Unlimited Customer Service
We encourage our clients to call for advice on anything. Unlimited means as often as needed – no extra charge.
Foxbright CMS Features
The Foxbright content editor is truly user friendly. What You See Is What You Get (WSIWGY) no technical knowledge is necessary. Content can be easily updated from any device. Design is responsive and all content automatically formats to your design for a clean professional presentation.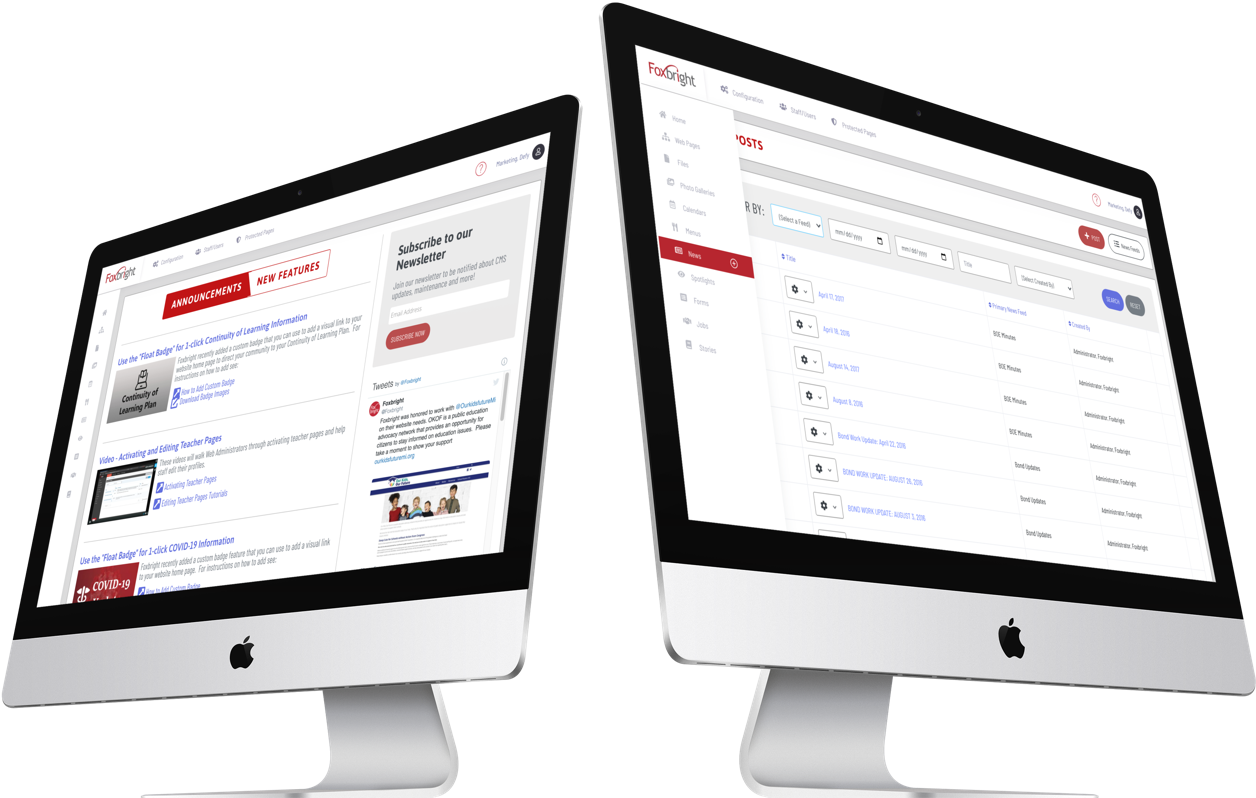 Want to see more? Book a Demo today!
Learn more about the Foxbright CMS and see how it can help your organization.
Foxbright can improve your site with customized design
Spotlights / Points of Pride
Visually highlight School Activities, Events, Accomplishments
Graphical Quick Links Menu
No limit on number of spotlights, auto-rotate on page, and option to view all
News, Stories, Announcements
Push articles to Facebook & Twitter
Easily add Facebook and/or Twitter posts to your website
Home Page Alerts - great for school closings or other scheduling changes
Date Driven with Auto Archive feature
Featured News - draw special attention to news articles on your home page
Stories / Online Newsletters
Calendars and Events
Add and Edit Events and share events
Parent Calendar View (select district and building calendars to view together)
Event Description supports links to documents, embedded maps, etc.
Present multiple calendars together (e.g. School Calendar + District Calendar)
iCAL / ICS enabled so anyone can subscribe to your school calendars
Foxbright integrates with Google, Office 365, Schedule Star, or any calendaring system that supports calendar subscriptions
Lunch Menus
Create, manage and post lunch menu's directly to website
No more linking to PDF lunch menus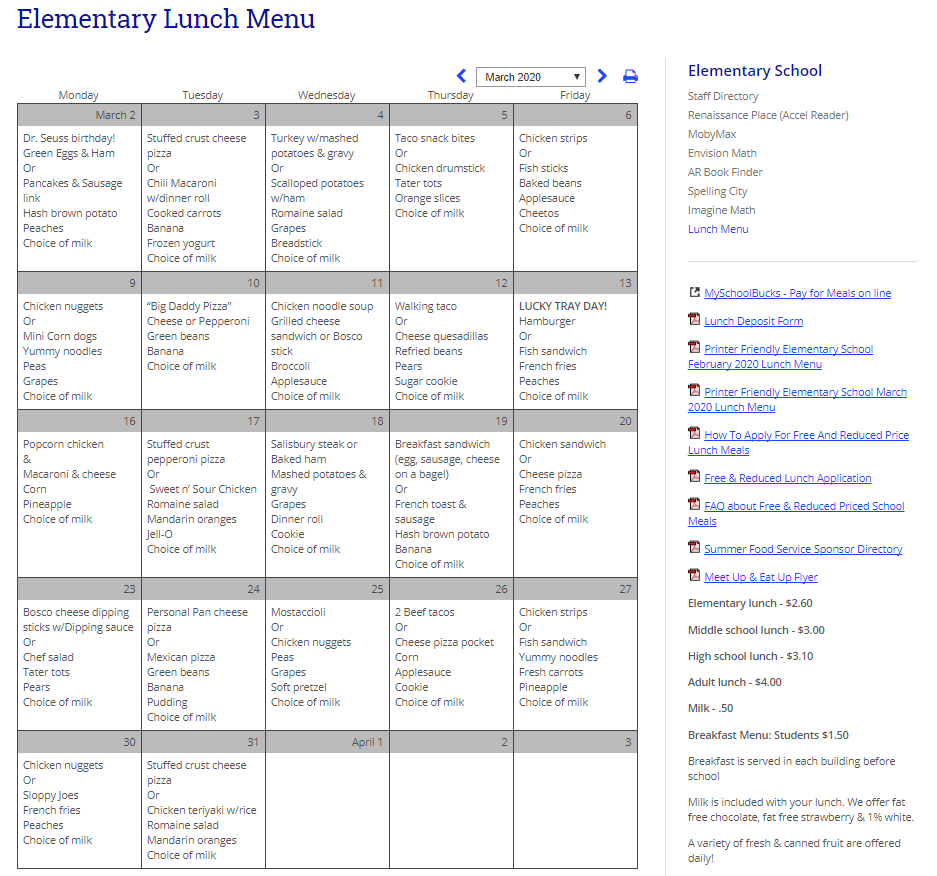 Staff Directory and Teacher Pages
Searchable Staff Directory by name, building, department and position
Customizable Staff Listings for Building or Department specific directory
Auto link staff to teacher pages from Staff Directory
Staff Cards
Unlimited Teacher Pages - includes calendars, photo galleries, documents, newsletters, etc.
Photo Galleries
Rotating Photo Banners on District and Building Pages
Inline Photo slideshows and galleries
Unlimited number of photos
Optional Photo Title and Description shown with each photo
Custom Online Forms
Easily create custom forms for your website - drag & drop controls to build form
Email notification (by form) when submitted with Confirmation Email Notification option
View and option to edit submitted form data
File Attachments Export form information to CSV/Excel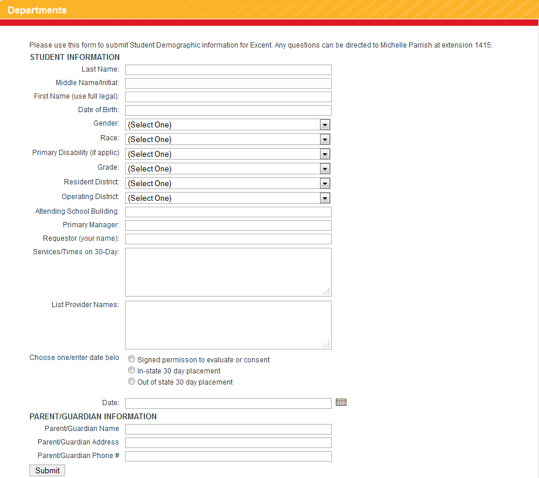 Password Protected Pages
Secured (SSL) Password Protected Pages – requires site visitor to login to view content. Safely add sensitive content and control who has access to the content.
Create as many password-protected areas in your website as you need.
Total control – Make any page secure, no matter where it is in your site
Custom log-in page – Each secure area in your site can have its own log-in page.
Groups/User Management – Define your own groups and assign users to 1 or more of these groups. Assign access to website pages by groups.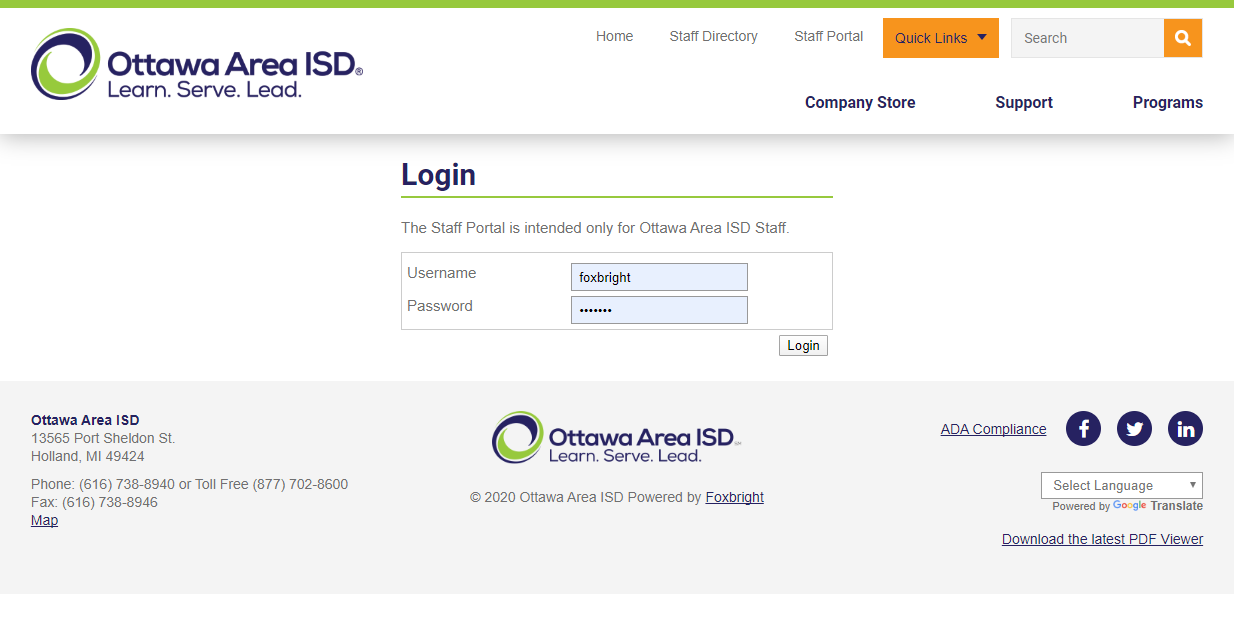 Roles & Permissions
Assign Web Administrator, Publisher, Editor or Staff Roles
Grant access to specific pages, calenders, news sections and more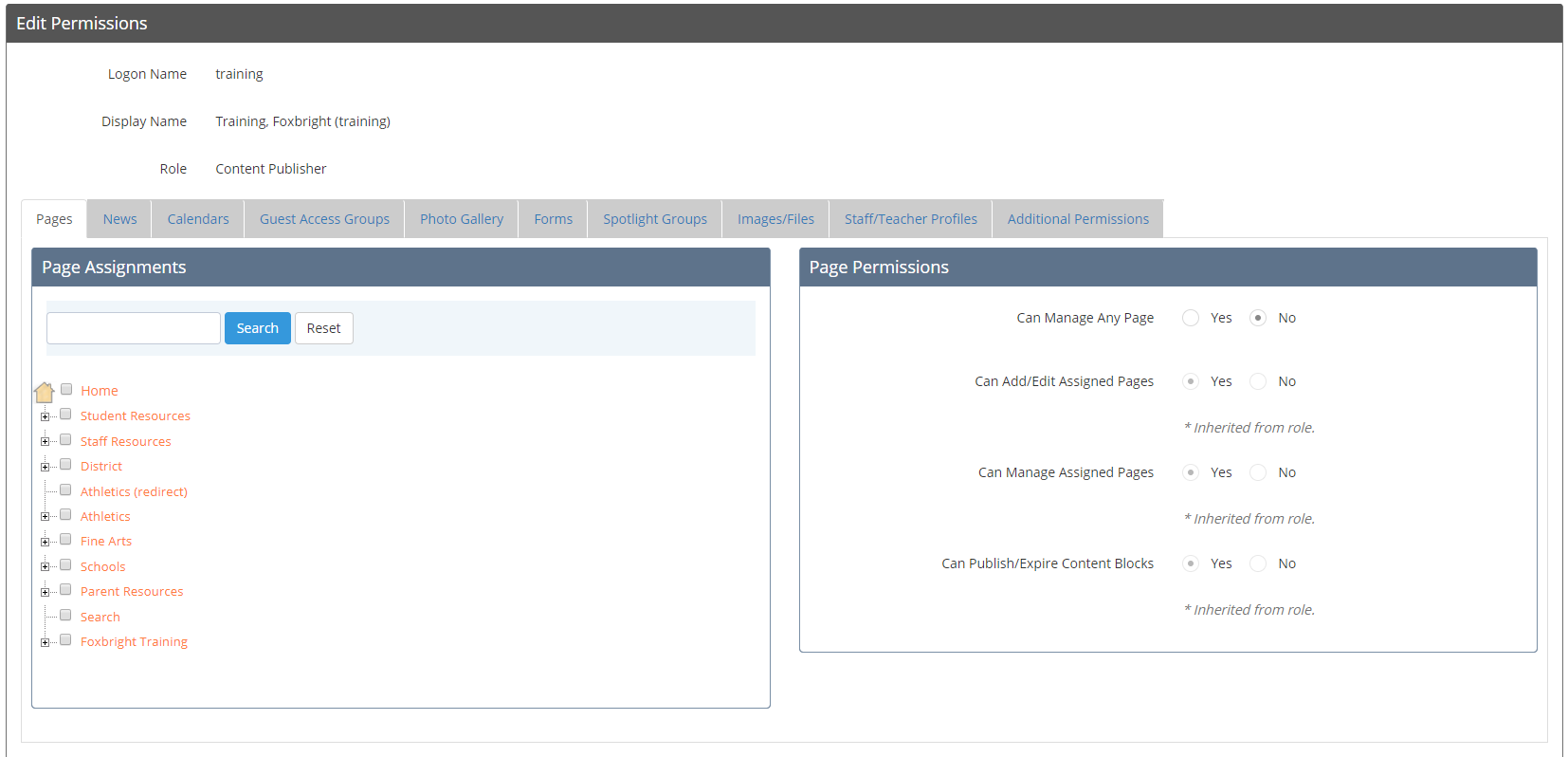 Integrations / Feeds
Google Calendars, ICAL / ICS enabled calendars
Facebook / Twitter / Blogs / School Messenger RSS Feeds
News, Staff, and Calendar integration with App
Advanced Script Integration, can include web-services or robust JavaScript on pages of the site
LDAP Integration for Authentication
Google Analytics for complete website statistics
Google Translator for Language selection and translation
Loved By Over 200 Customers
Blissfield Community Schools
We have used Foxbright for almost 9 years now and have had a great working relationship with them. Responses are always quick and courteous.
Byron Center Public Schools
We are very happy with this organization. They are great to work with! Sharp group of professionals and always helpful.
Charlotte Public Schools
We decided to go with Foxbright and have been very pleased with the results. The functionality is just what we needed, the CMS is intuitive and the customer service is beyond our expectations. Now that the website is launched, we are considering the Foxbright app for parent communication.
Grosse Ile Township Schools
Foxbright gave us excellent guidance on putting together a website that works well, is easy to update, projects a highly professional image, and enables us to tout the benefits of Grosse Ile living.
Marcellus Community Schools
Saline Area Schools
When any issue comes up, the Foxbright support team is only an email or phone call away. They always respond very quickly to the issues which wasn't our experience with our last website vendor.
Southfield Public Schools
It has been a joy and a pleasure to work with Foxbright because they are such a responsive company.
Walled Lake Consolidated School District
We interviewed a number of providers to find the best fit for the district. The clear winner was Foxbright. Our switch, transition and change to Foxbright was smooth. Foxbright was responsive, strategic and timely in the plan to make the change.
Wayland Union Schools
Our experience in working with Foxbright to create the new website was wonderful from start to finish. We finished the project under schedule and our parents, staff, and community are happy with the new site.
Why Choose Foxbright

Constant Updating & Revising CMS
We are always updating the CMS with new technologies and new features to best serve you. 5th Gen of CMS coming soon.

Dedicated Project Manager
Your project manager works with you to make sure you always have a clear understanding of your project.

Easy to Use CMS
Our CMS' clean design is easy to use and learn. You'll be able to update anything you want, when you want.

Enterprise Hosting & Security
We provide a protected and dedicated hosting environment with everything from DDoS Mitigation Services to data backups.

Integrations
We provide a number of integration options for ease of use.

Section 504/508/ADA Compliance
All our sites are ADA Compliant (WCAG 2.0/2.1 Level AA) and mobile and tablet device friendly.

Superior Client Support
We encourage our clients to call for advice on anything. Unlimited means as often as needed - no extra charge.

Training
We provide individualized training for all of our clients or access our online help desk with video tutorials and manuals.