First, what exactly is ADA website compliance?
An ADA compliant website is the digital equivalent of a wheelchair accessible entryway. Just as districts need to provide an easy and equitable way to enter their place of learning, they must also ensure their online content is accessible for every student, regardless of ability.
Q: Which came first, The American With Disabilities Act or the Internet?
A: The official birthday of the Internet is considered to be January 1, 1983 (unless, of course, you believe the humorous theory about Al Gore:) ). George H.W. Bush signed the ADA into law 7 years later on July 26.
To be ADA compliant, school websites must meet the Web Content Accessibility Guidelines (WCAG) 2.1. The most common failures are:
| WCAG Failure Type | % of home pages in 2022 | % of home pages in 2021 | % of home pages in 2020 | % of home pages in 2019 |
| --- | --- | --- | --- | --- |
| Low contrast text | 83.9% | 86.4% | 86.3% | 85.3% |
| Missing alternative text for images | 55.4% | 60.6% | 66.0% | 68.0% |
| Empty links | 50.1% | 51.3% | 59.9% | 58.1% |
| Missing form input labels | 46.1% | 54.4% | 53.8% | 52.8% |
| Empty buttons | 27.2% | 26.9% | 28.7% | 25.0% |
| Missing document language | 22.3% | 28.9% | 28.0% | 33.1% |
Want to see how your site checks out? You can enter your website's URL here or schedule a time for a free, personalized audit!

Why should schools prioritize ADA website compliance?
DEI - Most importantly, it's a commitment to Diversity, Equity and INCLUSION. As educators, it's so important that we ensure we include the rights of people with disabilities to digital inclusion. Nothing has highlighted the value of digital access and the disparity of access better than the pandemic, when the world turned inward to the Web for nearly everything.
Legal - In 2022, plaintiffs filed 3,255 lawsuits - a 12% increase from the year before. These cases have scary numbers behind them too with compensatory damages ranging from $50,000 to $300,000.
Opportunity - There are 61 million people with a disability in the US. Having an ADA compliant website ensures that schools are able to reach, connect, and engage with large audiences of parents and students.
Bonus - SEO benefit? Though not as important as creating a golden standard of universal accessibility, recent studies have shown that ADA compliance may have another major benefit: improved search engine optimization.
Actionable steps you can take to improve your website accessibility
In an earlier article, we provide a Compliance Checklist and other helpful resources you can use to assess your website's accessibility. Since Foxbright is committed to providing top of the industry compliance protocols for all our clients we also have tools to dig deeper and identify specific issues. Even if you're not a client, we'd be happy to help you!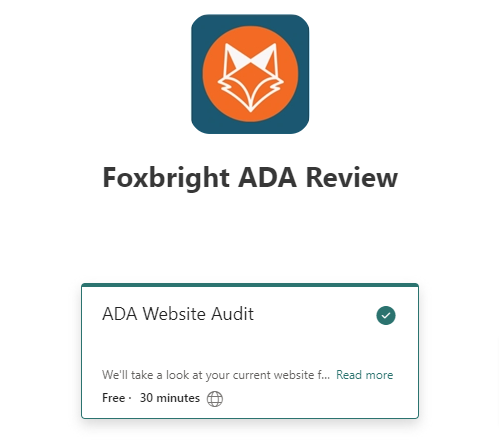 7 of the most common educational website compliance issues
1. ADA Compliant Documents and Content
Every single document that school or school staff post to their website is required to be compliant/accessible. Where most schools run into issues here is the way the documents are formatted. Schools may publish an attractive looking newsletter, but just because it looks good doesn't mean it is accessible to all screen readers.
A more specific example of where uploading documents can go wrong is with scanned documents. When a school uploads a scanned document onto their website, possibly for an enrollment or meeting minutes, the document is essentially just an image and therefore deemed not accessible.
2. ADA Compliant Link Names
Common mistakes many schools will make in regard to link names on their website are found in the wording. Links that are presented by the wording, "Click Here" are not accessible and therefore not compliant. Another common issue is using the web address or URL as the link name.
Both of the above examples would be deemed as non-compliant. In order to be deemed an ADA compliant website, link names must be completely unique, and more importantly, adequately descriptive.
3. ADA Compliant Flyers and Newsletters
ADA compliance requires schools to post Rich Text alongside any and all flyers or newsletters that are uploaded to the website. For many, the content will not be accessible with just the image alone. It should be noted that it may be possible to achieve compliance using Alt Text for a flyer, but not a newsletter.
4. Staff Member Websites
Many schools find themselves in trouble for the websites their staff members set up on their own accounts. It's important for school administrators to remember that the school district is also responsible for any websites set up by staff members. These additional websites, whether they are setup on Weebly, a Google Site, or another server, must be compliant too.
5. 3rd Party Tools
Any and all 3rd party tools that schools use to communicate with their constituents must also be accessible in order to be deemed compliant. Common examples of 3rd party tools include S'Mores, MailChimp, and any other CMS or CRM related system.
6. ADA Compliant iframes (inline HTML frames)
Content that is embedded within a page using an iframe must also be accessible. This means that keyboard navigation and appropriate color use for contrast must be accounted for. Common issues with this point include the embedding of Google Calendars as they often have color contrast issues.
7. ADA Compliant Color
In order to be deemed accessible and compliant, a piece of content cannot use only color as the sole way of conveying information. Even if the piece of content is color coded, such as in a school calendar, a student or user may be colorblind and therefore not able to access the information.
In Conclusion
At Foxbright, we strongly believe that ADA compliance is most important in the education industry.
We believe that one of the greatest things about our country's education system is its commitment to making learning accessible for our future - the students we serve.
A big claim like that should be backed up, right? That's why it's no lip service that we offer expert guidance to any school district that shares that belief. Please don't put compliance on the back burner. Let us help you make sure your school is at the forefront of accessibility by connecting with our team. No sales pressure, just a commitment to progress!
Schedule your ADA compliance review today
Thanks for reading!
What Foxbright Clients Say
- Grand Ledge Public Schools
"Foxbright's client service is second to none!"
- Grand Ledge Public Schools
"For many people, a school district's website often provides the first impression... and those are very powerful and influential. I can not imagine using a different website technology provider – I think Foxbright is tops in so many ways!"
- Vicksburg Community Schools
"Our Head of Technology and I both marveled at how thorough, seamless, simple, and cost-efficient the site transfer process was last Fall and at how easy it is to maintain and change the site to fit our needs. Thank you for all you do to help us look good!"
- Saline Schools
"The PD yesterday was awesome! The hybrid you did for us was great. It was short, quick and covered the areas we wanted to in a short time. Thank you for being flexible and rolling with our PD style yesterday. Excited to be ADA compliant."
- Blissfield Community Schools
"We have used Foxbright for almost 9 years now and have had a great working relationship with them. Responses are always quick and courteous."
- Saline Schools
"When any issue comes up, the Foxbright support team is only an email or phone call away. They always respond very quickly to the issues which wasn't our experience with our last website vendor."
- Kent ISD
"Foxbright is a technology company that knows how to communicate, rather than a communication company that dabbles in technology."
- Wayland Union Schools
"Our experience in working with Foxbright to create the new website was wonderful from start to finish. We finished the project under schedule and our parents, staff and community are happy with the new site."
- Byron Center Public Schools
"We are very happy with this organization. They are great to work with! Sharp group of professionals and always helpful."
- Grosse Ile Township Schools
"Foxbright gave us excellent guidance on putting together a website that works well, is easy to update, projects a highly professional image, and enables us to tout the benefits of Grosse Ile living."
- Mona Shores Public Schools
"Before we partnered with Foxbright, our website was home grown, and it showed."
- Blissfield Community Schools
"We recently did a redesign of our website and we are so pleased with the new web interface. Their interface is easy to use and intuitive. Foxbright continues to keep up with the trends and over the past 9 years there have been many new features and functions."
- Muskegon Area ISD
"We been very satisfied with the quality and flexibility of Foxbright's CMS. We continue to enjoy a positive and creative partnership with Foxbright and look forward to implementing new features."
- Southfield Public Schools
"It has been a joy and a pleasure to work with Foxbright because they are such a responsive company."