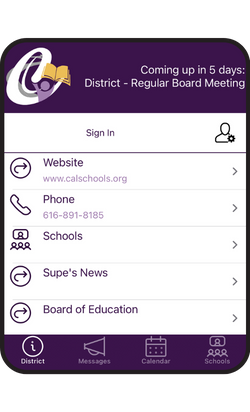 So you already know why community engagement is so important for your school, but you don't know how to get started. Because a communication app for school can be easily maintained through automatic settings, it is a great way to boost your community engagement without constant updates and changes. Also, our increasing dependence on phones throughout our daily lives means apps are a smart option for engaging with the community. If you're wondering what creating an app for your school means and why it's important, continue reading.
How is an App Different from a Website?
Your school app is different from your website. While your website is important and contains a wealth of both urgent and more static information, your app often features the best of what your website has to offer. According to Adrian Hirsch, Project Manager at Foxbright, a communication app for school "provides…a more streamlined way to present the stuff that people will be checking for everyday versus your website." Think quick access to ever-changing information like daily lunch menus, the swim team schedule, or the school calendar, while your website might have information that parents need on special occasions or less frequently.
Benefits for Students/Families & Benefits for School Staff
If you released a new app how would it affect your day to day? How will your students, families, and staff benefit from having a school app when you've already got a website?
---
Explore each feature set below to see the distinct benefits for each audience:
Benefits for students and families
A student wanting to ask their teacher a question can easily find their teacher, open up their profile, and contact them through the app.
Benefits for school staff
Due to easier access to contact information, teachers and staff get more engagement from the community.
Creating groups within the app for classes, clubs, sports, etc.
Benefits for students and families
It allows families to receive information that is personalized. There's nothing worse than struggling to find the information you need, having to dig through several pages to get to the right one. Through a school app, "a user can subscribe to just the areas that they need," says Hirsch. This means that they can see information that is relevant only to the elementary school their child attends, or to their teacher's class. This eliminates frustration that might come from confusion and information overload.
Benefits for school staff
You can quickly send a message to just the members of the debate club about the change to the after-school meeting. When you waste less time sending individual emails or making phone calls, you can spend more time on helping your students grow.
Benefits for staff, students and families
Privacy is protected since conversation is limited to the app. Both parties have a logged record of the conversation for future reference, and for any legal issues, should they arise.
Benefits for students and families
Time-sensitive information, like a school closure can be easily and quickly communicated through a communication app for school. Families don't have to check several sources (website, Facebook, etc.) to find the information. They can customize the notifications and how they receive them, meaning more personalization for the information they want.
Benefits for school staff
You don't have to post the same information in multiple channels. The app saves you time by posting your important social media updates on the app.
Sharing community photos and videos
Benefits for students and families
Families can share your school's special moments easily within the app. They get to share the pride they feel for their school and community by getting involved in school conversations and events.
Benefits for school staff
Posts will be reviewed by admin before posting so that you can be in control of what is shared with the community. You then get to use great authentic, community-generated media for your website, emails, social media, and more.
Benefits for students and families
Families and students can select the calendars most relevant to them, providing customization.
Benefits for school staff
You can provide important dates and events with students and families in a quick and easy way, updating calendars as changes arise.
Social media and news feeds
Benefits for students and families
Families can easily access information from a number of platforms. Ideally, you will have differentiated information on each platform, but you can be sure that important information will be seen by families on at least one of them.
Benefits for school staff
With social media posts and website information being shared on the app and app notifications being shared on your website and social media, you save time with the ability to share information on multiple platforms.

Extra Credit: Bonus Features
Foxbright offers extra features if your school opts to dive deeper into the app's full potential. Here are some noteworthy ones:
SIS (Student Information System) integration: Our mobile app can sync directly to the district's student information system. This allows administrators and teachers to send messages to families even if they haven't downloaded the native app! This feature is vital when school districts need to disseminate information broadly and immediately like snow day closings.
Digital signage integration: This feature allows schools to update digital signage such as lunch menus, information monitors, and exterior digital signs. Schools see immediate cost savings as a typical digital signage setup involves multiple pieces of software whereas this solution consolidates management into one place.
In the End
A school app offers an easy and quick way for families to find the information they need on a daily basis. While this by no means neglecting your website, email, or social media, creating an app for your school is an efficient and innovative option to boost engagement. And boosting engagement means getting the community involved to do more good with your wonderful students!
If you're interested in learning more about how to build a mobile app, Foxbright can be your guide. Book a demo here to see how a new mobile app can work specifically for your school.
What Foxbright Clients Say
- Grand Ledge Public Schools
"Foxbright's client service is second to none!"
- Grand Ledge Public Schools
"For many people, a school district's website often provides the first impression... and those are very powerful and influential. I can not imagine using a different website technology provider – I think Foxbright is tops in so many ways!"
- Vicksburg Community Schools
"Our Head of Technology and I both marveled at how thorough, seamless, simple, and cost-efficient the site transfer process was last Fall and at how easy it is to maintain and change the site to fit our needs. Thank you for all you do to help us look good!"
- Saline Schools
"The PD yesterday was awesome! The hybrid you did for us was great. It was short, quick and covered the areas we wanted to in a short time. Thank you for being flexible and rolling with our PD style yesterday. Excited to be ADA compliant."
- Blissfield Community Schools
"We have used Foxbright for almost 9 years now and have had a great working relationship with them. Responses are always quick and courteous."
- Saline Schools
"When any issue comes up, the Foxbright support team is only an email or phone call away. They always respond very quickly to the issues which wasn't our experience with our last website vendor."
- Kent ISD
"Foxbright is a technology company that knows how to communicate, rather than a communication company that dabbles in technology."
- Wayland Union Schools
"Our experience in working with Foxbright to create the new website was wonderful from start to finish. We finished the project under schedule and our parents, staff and community are happy with the new site."
- Byron Center Public Schools
"We are very happy with this organization. They are great to work with! Sharp group of professionals and always helpful."
- Blissfield Community Schools
"We recently did a redesign of our website and we are so pleased with the new web interface. Their interface is easy to use and intuitive. Foxbright continues to keep up with the trends and over the past 9 years there have been many new features and functions."
- Muskegon Area ISD
"We been very satisfied with the quality and flexibility of Foxbright's CMS. We continue to enjoy a positive and creative partnership with Foxbright and look forward to implementing new features."
- Southfield Public Schools
"It has been a joy and a pleasure to work with Foxbright because they are such a responsive company."