So you already have a beautiful school website that's user-friendly, well-organized, and ADA compliant. But have you thought about your website branding? Branding is the magic touch that helps communicate a cohesive identity about the school/schools/district you love. When you take the time to build branding for school websites, you invest in clear messaging that resonates with current and prospective students and their families. With the new academic year around the corner, it's the perfect time to consider whether your website branding stacks up to the excellence of your school.
What is Branding?
According to Brandingmag, "Branding is the perpetual process of identifying, creating, and managing the cumulative assets and actions that shape the perception of a brand in stakeholders' minds." In other words, it is an ongoing process of defining your brand through various outputs in order to create a clear image of who you are. Although we might often think of this in the realm of big companies selling a product or service through commercials, it is just as relevant to schools. School website branding involves showing what your school is all about through your website, and vying for the trust of families in educating their children. It plays a role in satisfaction, pride, and a sense of community for employees as well.
Why It's Important
As far as online presence goes, your school website will often be responsible for first impressions as folks search for information on your school. Imagine it like the first meeting with a parent of a new student. What you're wearing, how clearly you communicate, your level of preparation in that brief interaction will play a major part in their perception of you for the entire year.
For that reason, it is integral that schools communicate their brand clearly, quickly and effectively. This builds a credible reputation and a strong sense of identity among current students and their families, prospective students and their families, as well as employees of your school. If done well, your website branding is the digital equivalent of a school pride day, unifying everyone around the values on which you operate every single day. Here are the major reasons to take time on your website branding:
To Put Your Values on Display Successful school branding communicates a clear set of values, getting everyone on the same page. For something as important as education, a school's website does the heavy lifting with families and employees considering whether the school is aligned with their own beliefs.

To Show Off Your Distinct Identity Similar to making other buying decisions as a consumer, students, families, and employees will likely choose the school that speaks to them and stands apart from others. When you've got a school as special as yours, thoughtful branding should follow suit.

To Build Trust By creating a cohesive identity that differentiates from other schools through your exceptional values, you're fostering a sense of reliability. Imagine that you're a prospective guardian browsing several school options. Are you likely to trust a school with a disjointed message and a vague sense of identity? Not only does clear branding communicate credibility and consistency, but it also shows you invested time and effort into executing such clear branding.
Values, Identity, Trust?! That can feel intimidating to figure out…
We've created a free School Branding Guide to make it easy! This 2 page, printable resource will walk you through all of the most important facets of outlining your school's brand. Having it all in one place is a great way to stay organized and united. Simply fill out this form and we'll send it to you:
The Recipe for Stunning Website Branding
Now that we've discussed the what and the why, it's time to talk about the how. While successful branding does take work, it is much easier when you already have a strong sense of pride about your school. These components of branding work to amplify what you know so that everyone else can feel that pride too.
Maple Valley Schools describes their overarching belief in a clear and concise way through their "district vision" statement, and supports that belief with a mission: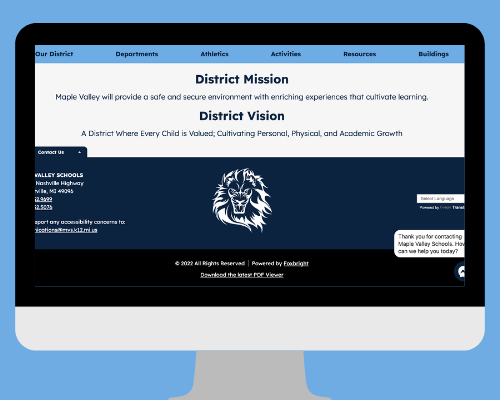 For example, Hamilton Community Schools does a great job of clearly presenting their brand pillars by using a graphic to communicate them clearly and quickly. Furthermore, visitors will see that they are framed by three core values (Motivated, Adaptive, & Collaborative) that unite the brand pillars together.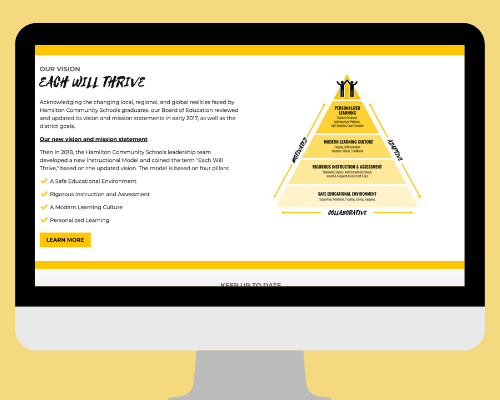 Look no further than Oakridge Public Schools as a stellar example of demonstrating a professional, aspirational, ambitious, and collaborative voice: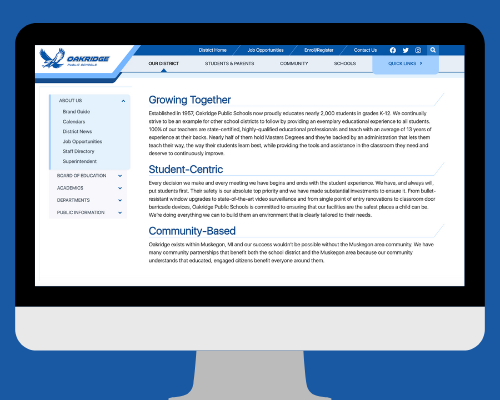 As a (biased?) example, here's how we adhere to the Grunt Test on Foxbright's website: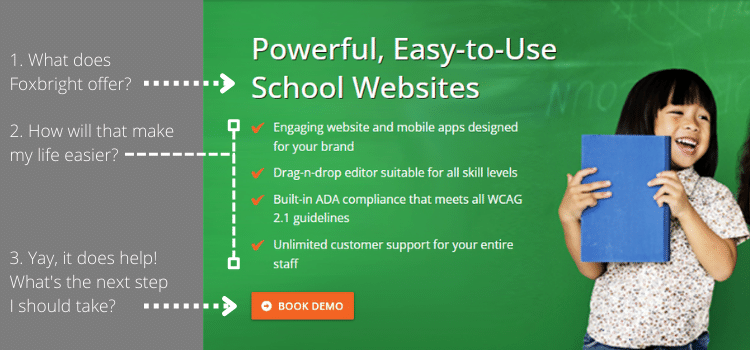 For a school, a positioning statement may be "We offer unmatched education for elementary school students to generate inquisitive minds that innovate our community," or "Unlike many high schools, we bolster creative learning through a nationally-recognized arts program."
We see Berrien Springs Public Schools uses a Foxbright CMS feature to consistently display their positioning statement in the top bar of every webpage on their site. Then, on the homepage right below the banner image, they include their full positioning statement:
"Together, inspiring students to think, learn, achieve, and care in a global community. At Berrien Springs Public Schools, we strive to serve the needs of all student learners while seeking ways for students to reach their full potential."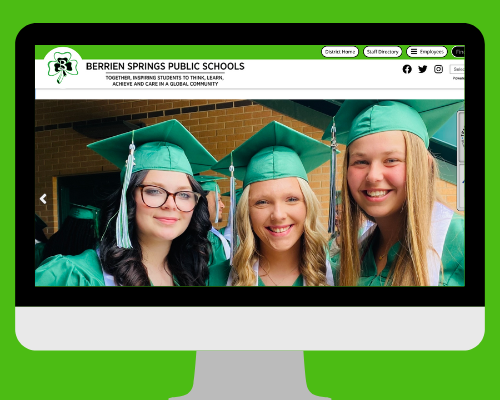 The West Michigan Academy of Arts & Academics provides a solid example of consistency. Their differentiators include incorporating art into the way that children learn, which is displayed clearly throughout their site. Using a Foxbright custom design template, they've crafted a vibrant and playful look with bold colors and shapes; the tone invoking feelings of creativity while also conveying approachability and feeling of community: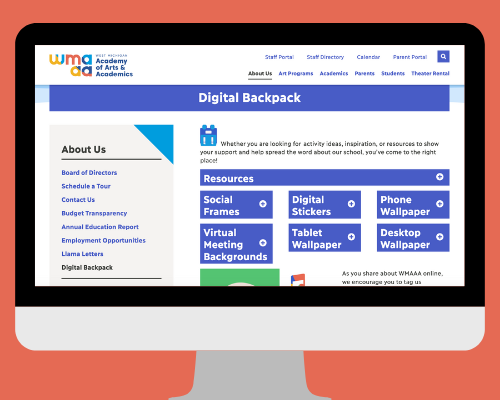 In Conclusion:
Despite its importance in building community, maintaining a strong website brand presence is often deprioritized for many schools. The good news is that YOU can be a branding hero by following these key branding tenets:
Put your school's core values into words.
Convey your shining school personality to your visitors by showcasing what makes you unique.
Consistency is key! The language should match the visual components in order to instill confidence in your students, their families, and employees.
If you're interested in learning more about website branding for your school, let's set up a 30min call to talk through what support options will make YOUR brand shine.

What Foxbright Clients Say
- Grand Ledge Public Schools
"Foxbright's client service is second to none!"
- Grand Ledge Public Schools
"For many people, a school district's website often provides the first impression... and those are very powerful and influential. I can not imagine using a different website technology provider – I think Foxbright is tops in so many ways!"
- Vicksburg Community Schools
"Our Head of Technology and I both marveled at how thorough, seamless, simple, and cost-efficient the site transfer process was last Fall and at how easy it is to maintain and change the site to fit our needs. Thank you for all you do to help us look good!"
- Saline Schools
"The PD yesterday was awesome! The hybrid you did for us was great. It was short, quick and covered the areas we wanted to in a short time. Thank you for being flexible and rolling with our PD style yesterday. Excited to be ADA compliant."
- Blissfield Community Schools
"We have used Foxbright for almost 9 years now and have had a great working relationship with them. Responses are always quick and courteous."
- Saline Schools
"When any issue comes up, the Foxbright support team is only an email or phone call away. They always respond very quickly to the issues which wasn't our experience with our last website vendor."
- Kent ISD
"Foxbright is a technology company that knows how to communicate, rather than a communication company that dabbles in technology."
- Wayland Union Schools
"Our experience in working with Foxbright to create the new website was wonderful from start to finish. We finished the project under schedule and our parents, staff and community are happy with the new site."
- Byron Center Public Schools
"We are very happy with this organization. They are great to work with! Sharp group of professionals and always helpful."
- Grosse Ile Township Schools
"Foxbright gave us excellent guidance on putting together a website that works well, is easy to update, projects a highly professional image, and enables us to tout the benefits of Grosse Ile living."
- Mona Shores Public Schools
"Before we partnered with Foxbright, our website was home grown, and it showed."
- Blissfield Community Schools
"We recently did a redesign of our website and we are so pleased with the new web interface. Their interface is easy to use and intuitive. Foxbright continues to keep up with the trends and over the past 9 years there have been many new features and functions."
- Muskegon Area ISD
"We been very satisfied with the quality and flexibility of Foxbright's CMS. We continue to enjoy a positive and creative partnership with Foxbright and look forward to implementing new features."
- Southfield Public Schools
"It has been a joy and a pleasure to work with Foxbright because they are such a responsive company."