Introduction
A poorly designed website has much bigger ramifications than simply 'looking bad.' Even if one is the best school in the state, bad practices such as confusing navigation, crowded content, and accessibility issues will create a frustrating experience for users that leads to a negative perception of a school's brand.
In this article, we'll review the best practices for school website design; including how to pick the right functionality, templates, and layout for your needs.
Nail Your School Website Layout
School websites have to do a lot. From new student attraction to displaying school announcements, the website design needs to consider many different needs and capabilities of visitors.
Balancing both form and function is the key to getting your design right. The website should clearly reflect your school's mission and values while still allowing visitors to quickly find the information they need.
There are a few tried-and-true principles to incorporate when designing your school website:
Don't bury the lead. An old journalism phrase, "burying the lead" refers to the mistake of hiding your most important message or information. Instead, as you can see in the example below, you should try to greet visitors with an image or video and message that resonates and informs. Notice in this example how the website meets each visitor's needs with direct links for parents and staff, while still sharing the school's values and inviting community members to learn more about what they offer.

Keep your layout simple and don't add too much. It's easy to overcomplicate page layout and design by adding lots of images, columns, and interactive features like sliders or dropdown menus. However, most users have a specific reason for visiting your website. The easier your school website is to navigate, the better experience visitors will have.

Use a responsive template and layout so that mobile phone or tablet users can easily browse the school website.

Create a calendar or schedule of events for the home page. Rather than making visitors navigate through multiple menus or pages, we highly recommend keeping important announcements front and center on the home page, often just below the first image or video.

Have a clear and well-organized menu structure at the top of every page.

Don't forget about ADA compliance, which needs to be considered for all websites. We previously wrote about how to tackle

ADA compliance

for your school website, including a step-by-step guide for getting started.
Define Key Website Functions
Do you want to get even more from your school website? The changing educational landscape has prompted some schools to rely on their website for a variety of other functions, including:
Live streaming classes or hosting class material.
Accepting payment from parents for some school expenses.
Online forums for connection and engagement.
If your school needs additional functionality, double check that the provider or template that you're using can accommodate these needs.
Use High Quality Content
Creating and using good content is a huge part of effective school website design. From compelling and informative copy to crisp, custom images, there are many ways to improve the quality of your content.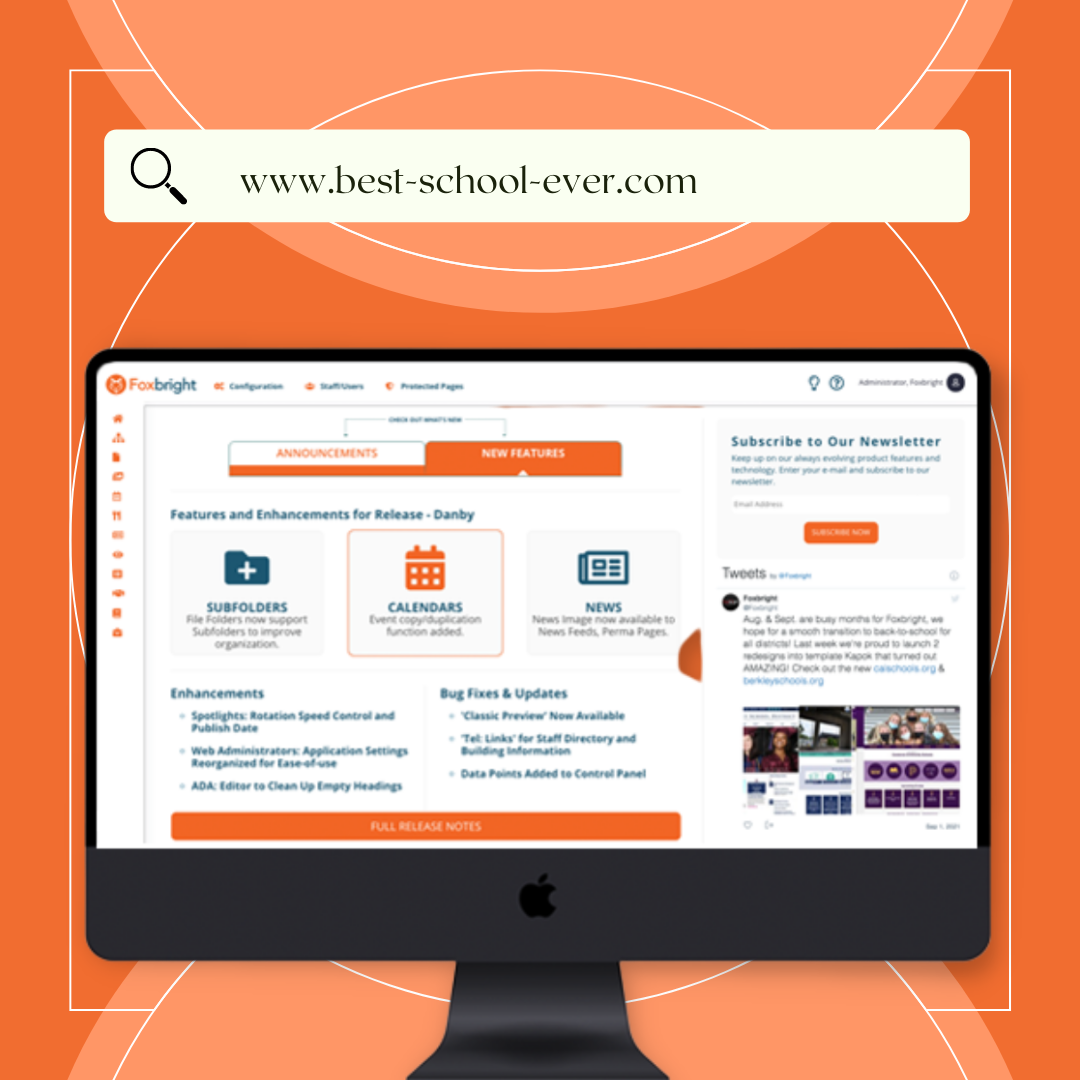 Great content will help improve your website's search engine rankings, user experience, and ADA compliance.
The following suggestions might help guide your content development processes:
Write clearly and easily enough for any visitor to understand.
Use real images and photographs from your institution.
Make sure that all images are properly sized and formatted.
Use multiple types of media, including video.
Keep Your Audience in Mind
While large school districts might have generalized website messaging and information to serve lots of different audiences, small private schools may have a much stronger focus on student recruitment and retention.
This is especially true for religious schools or those with a particular educational approach (e.g., Montessori), who are seeking to appeal to a very specific kind of parent. The overall design, images, and messaging should be crafted to speak to your target audience. Focusing on the areas that make your school different, unique, or competitive are a great place to start.
Conclusion
There's a lot to keep in mind if you're handling school website design all on your own. Working with a proven partner can make the design process much less stressful and ensure that you get the outcome needed on time and on budget.
Foxbright has over 20 years of experience helping schools build new websites, training and supporting teams, and providing a suite of digital tools like mobile apps and a proprietary CMS made just for schools. We offer both custom and templated school website designs that give you the flexibility and capabilities needed for success. Interested in learning more? Request a demo to see exactly how we can make your school website redesign easier than ever.
What Foxbright Clients Say
- Grand Ledge Public Schools
"Foxbright's client service is second to none!"
- Grand Ledge Public Schools
"For many people, a school district's website often provides the first impression... and those are very powerful and influential. I can not imagine using a different website technology provider – I think Foxbright is tops in so many ways!"
- Vicksburg Community Schools
"Our Head of Technology and I both marveled at how thorough, seamless, simple, and cost-efficient the site transfer process was last Fall and at how easy it is to maintain and change the site to fit our needs. Thank you for all you do to help us look good!"
- Saline Schools
"The PD yesterday was awesome! The hybrid you did for us was great. It was short, quick and covered the areas we wanted to in a short time. Thank you for being flexible and rolling with our PD style yesterday. Excited to be ADA compliant."
- Blissfield Community Schools
"We have used Foxbright for almost 9 years now and have had a great working relationship with them. Responses are always quick and courteous."
- Saline Schools
"When any issue comes up, the Foxbright support team is only an email or phone call away. They always respond very quickly to the issues which wasn't our experience with our last website vendor."
- Kent ISD
"Foxbright is a technology company that knows how to communicate, rather than a communication company that dabbles in technology."
- Wayland Union Schools
"Our experience in working with Foxbright to create the new website was wonderful from start to finish. We finished the project under schedule and our parents, staff and community are happy with the new site."
- Byron Center Public Schools
"We are very happy with this organization. They are great to work with! Sharp group of professionals and always helpful."
- Grosse Ile Township Schools
"Foxbright gave us excellent guidance on putting together a website that works well, is easy to update, projects a highly professional image, and enables us to tout the benefits of Grosse Ile living."
- Mona Shores Public Schools
"Before we partnered with Foxbright, our website was home grown, and it showed."
- Blissfield Community Schools
"We recently did a redesign of our website and we are so pleased with the new web interface. Their interface is easy to use and intuitive. Foxbright continues to keep up with the trends and over the past 9 years there have been many new features and functions."
- Muskegon Area ISD
"We been very satisfied with the quality and flexibility of Foxbright's CMS. We continue to enjoy a positive and creative partnership with Foxbright and look forward to implementing new features."
- Southfield Public Schools
"It has been a joy and a pleasure to work with Foxbright because they are such a responsive company."