Introduction
Building a brand-new school website or redesigning an existing one is an exciting undertaking. Yet once the decision has been made to improve your school's online presence, it can be hard to know exactly where you should start.
From navigation and ADA compliance to user experience and mobile friendliness, school website design can all feel a bit overwhelming. We're here to help you sort through the noise and focus on exactly what matters most when building a new website.
In this article, we'll cover the three main options to get started.
Determine Your Approach: Do It Yourself, Marketing Agency, or Education Focused CMS
Before you even get to questions about layout, templates, and usability, you'll first need to pick which approach to website development is going to work best for your school and team. There are 3 primary ways to get your website built: the DIY (do-it-yourself) method, hiring an external web design agency, or partnering with an education specific CMS (content management system) provider.
So, which option is best? The answer to that question depends on your school's goals, resources, and capabilities. Here are a few considerations to keep in mind as you decide:
What is the scope of your project? Are you hoping to build an entirely new site, or simply make some updates to your current website?
What is your budget?
Does your staff have the level of expertise needed to create and customize a website?
Can someone on the team own this project from beginning to end?
When is it best to use a DIY approach?
Building or redesigning a website yourself can have many benefits – especially if you're on a tight budget. Thankfully there are many foundational templates and intuitive builders like Wordpress, Wix, or Squarespace that allows a person to build a fully functional website without a background in programming.
However, the trade-off here is the cost in labor hours. DIY website design takes at least 3 months to produce a working draft and that's only if you have internal resources fully devoted to the project who have design capabilities, technological aptitudes, and great organizational skills.
The DIY approach could be a good option for you if you meet the following criteria:
You have a smaller school that only requires less than 20 webpages.
You have an internal, technically-savvy staff member who takes full responsibility of the project
You're not under a tight deadline
You have an understanding of ADA compliance for school websites. (For more information here, check out our ADA checklist for 2022.)
You have a budget of under $1,500
When is it best to use a non-education specific marketing agency?
Web design agencies come in all shapes and sizes; from the sole practitioner to large multi-practice firms. There are several resources like Creative Circle, Upwork, or (for the more budget conscious) Fiverr that can help you narrow your search. Note that 9/10 times costs can be 10 – 25% higher than if you were to find the company directly since the recruiting services incorporate their premium into the agency's hourly fee.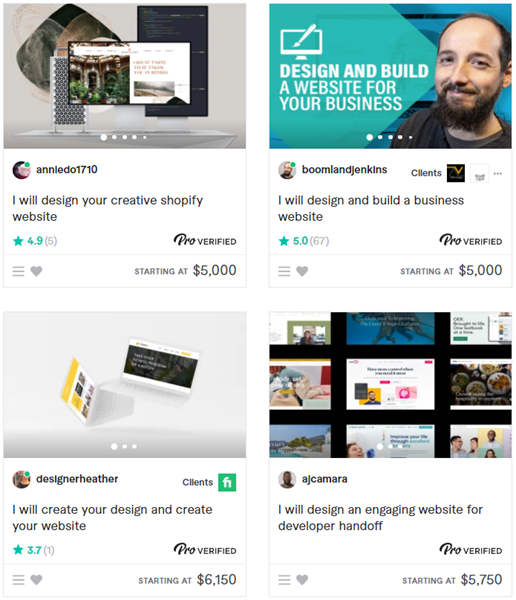 Here's when hiring a general design agency makes sense:
You need branding services with your website such as logo design or help crafting a mission statement.
You want a website that is NOT template based – completely unique.
You don't see yourself needing immediate updates. When websites are hard-coded, the client will typically need to work through an account manager vs. being able to do it themselves.
You're interested in additional marketing services like public relations, graphic design, or social media management
You have a monthly retainer budget of at least $500/month.
When is it best to use an education focused content management system (CMS) partner?
While also an outside resource, the difference here is that designing your website on an education specific CMS is a bit more like a blend between the fully external and the fully internal options. For example, the Foxbright approach is to handle all the heavy-lifting of website design by building an easy-to-use website management platform. Then, after a personalized initial training and with ongoing customer support, any authorized administrator, teacher, coach, or staff member can add/update content specific to their area of responsibility.
This option would be a good fit for you if the following sound like your needs:
You have a lot of information you need to regularly communicate to parents, students, staff, and your community
You need help ensuring you meet all American Disability Act website compliance requirements
You're unable to have an internal resource fully committed to the project implementation for at least 3 months
You need a website designed for an entire school district or multiple buildings with different kinds of students
You need some higher level elements such as social media integration, a mobile app, an event calendar, etc.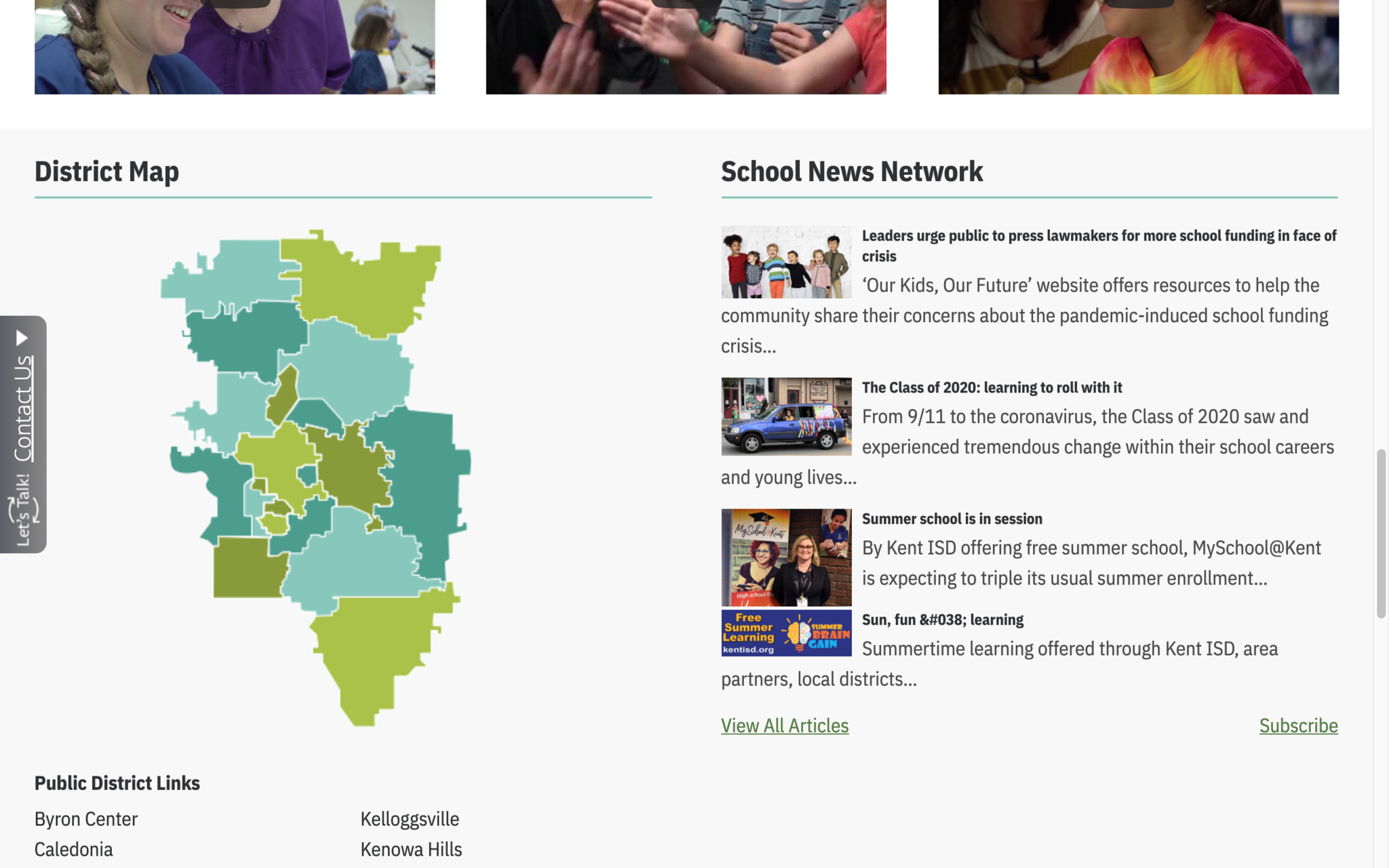 Interactive District Map and School News Highlights Examples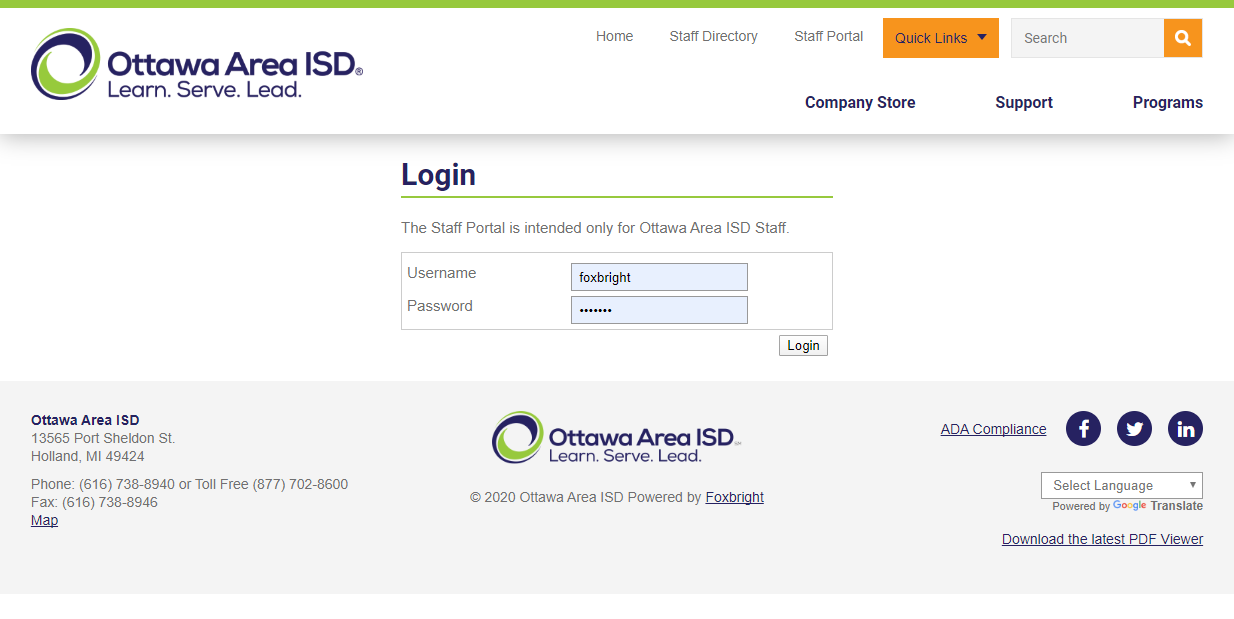 Example of Password Protect Pages login screen for staff
Conclusion
The process of modern school website design has thankfully come a long way from the days where everything had to be hard coded. There are several resources and great partners to help along the way.
With over 20 years of experience in education-based technology, we exist to help our partners succeed. So, whether you decide to do it yourself, work with us, or even select a competitor, we're happy to help you confidently make a decision that ensures your school's brand is visible and engaging online.
For more help on your project, visit our request a demo page to receive a personalized consultation catered to your needs.
What Foxbright Clients Say
- Grand Ledge Public Schools
"Foxbright's client service is second to none!"
- Grand Ledge Public Schools
"For many people, a school district's website often provides the first impression... and those are very powerful and influential. I can not imagine using a different website technology provider – I think Foxbright is tops in so many ways!"
- Vicksburg Community Schools
"Our Head of Technology and I both marveled at how thorough, seamless, simple, and cost-efficient the site transfer process was last Fall and at how easy it is to maintain and change the site to fit our needs. Thank you for all you do to help us look good!"
- Saline Schools
"The PD yesterday was awesome! The hybrid you did for us was great. It was short, quick and covered the areas we wanted to in a short time. Thank you for being flexible and rolling with our PD style yesterday. Excited to be ADA compliant."
- Blissfield Community Schools
"We have used Foxbright for almost 9 years now and have had a great working relationship with them. Responses are always quick and courteous."
- Saline Schools
"When any issue comes up, the Foxbright support team is only an email or phone call away. They always respond very quickly to the issues which wasn't our experience with our last website vendor."
- Kent ISD
"Foxbright is a technology company that knows how to communicate, rather than a communication company that dabbles in technology."
- Wayland Union Schools
"Our experience in working with Foxbright to create the new website was wonderful from start to finish. We finished the project under schedule and our parents, staff and community are happy with the new site."
- Byron Center Public Schools
"We are very happy with this organization. They are great to work with! Sharp group of professionals and always helpful."
- Grosse Ile Township Schools
"Foxbright gave us excellent guidance on putting together a website that works well, is easy to update, projects a highly professional image, and enables us to tout the benefits of Grosse Ile living."
- Mona Shores Public Schools
"Before we partnered with Foxbright, our website was home grown, and it showed."
- Blissfield Community Schools
"We recently did a redesign of our website and we are so pleased with the new web interface. Their interface is easy to use and intuitive. Foxbright continues to keep up with the trends and over the past 9 years there have been many new features and functions."
- Muskegon Area ISD
"We been very satisfied with the quality and flexibility of Foxbright's CMS. We continue to enjoy a positive and creative partnership with Foxbright and look forward to implementing new features."
- Southfield Public Schools
"It has been a joy and a pleasure to work with Foxbright because they are such a responsive company."