First, what is ADA Website Compliance?
Websites continue to get more advanced, with new features, integrations, and requirements being added almost daily. Many of these changes are good because they improve accessibility and ensure a better experience for all web users.
Website ADA compliance refers to making sure that websites are designed and developed in a way that is accessible to all individuals, including those with disabilities. The Americans with Disabilities Act (ADA) requires that websites be designed to work for users with visual, hearing, and other disabilities. Websites that are ADA-compliant can be accessed by people with assistive technologies, providing them with equal access to online content.
Why is ADA Compliance important for school websites?
It is important for school websites to have ADA compliant websites for several reasons.
Firstly, it is a legal requirement under the Americans with Disabilities Act (ADA) that all public entities, including schools, ensure that their online communications are accessible to people with disabilities.
Secondly, schools have a responsibility to create an inclusive environment for everyone, regardless of physical or cognitive ability. Having ADA compliant websites is an important way to ensure that all visitors can access the content on the website, including students, parents, and staff with varying abilities.
Thirdly, as we covered in 2022's compliance checklist article, not having an ADA compliant website can help schools avoid lawsuits that can be expensive, time-consuming, and could damage a school's reputation. By ensuring that the website meets the technical requirements for accessibility, schools can reduce the risk of being sued under Section 508 of the Rehabilitation Act or the Americans with Disabilities Act.
Finally, making a website ADA compliant can also help in gaining more visibility and Traffic to the website, as it shows that the school and its administrators are dedicated to inclusivity and striving to be accessible to all students and users. In fact, we predict that ADA compliance will have a major impact in SEO in the future!
School website requirements to meet ADA standards are very clear, and schools are absolutely expected to be compliant with current accessibility standards per Section 508 of the Rehabilitation Act and Section 255 of the Communication Act. Using WCAG 2.1 is the best way to ensure that your school's website is fully compliant with all applicable regulations.
What are the main criteria and features a website needs to be ADA compliant in 2023?
Below are the high-level categories of website compliance based on the official Web Content Accessibility Guidelines (WCAG) 2.1. You can read both an overview of the WCAG 2.1 standards and dive a lot deeper into specific compliance measures on the official website.
These 7 criteria are the best place we recommend starting for your 2023 ADA Compliance checklist:
Alternative Text Tags for Images: Alt text tags should be used to provide descriptions of images that can be read by screen reader software, allowing those with visual impairments to understand what the image is about.
Keyboard Navigation: Websites should allow users to navigate through content using a keyboard alone. This ensures that those who cannot use a mouse are able to access website content easily.
Closed Captioning and Transcripts for Media Content: Providing closed captioning or transcripts for audio and video content makes it accessible to people with hearing impairments or disabilities.
Color Contrast: Making sure that there is sufficient contrast between the text and background colors on all website elements (links, buttons, etc.) will ensure that people with low vision can see them clearly.
Accessibility Guidelines: Following the World Wide Web Consortium's (W3C) accessibility guidelines is an important part of making a website ADA compliant, as these guidelines are designed specifically to meet the needs of people with disabilities in regards to accessing content online.
Text Resizing: Websites should allow users to easily adjust text size via browser settings or other tools so that everyone can adjust text size according to their needs.

Responsive Design: Websites should be designed responsively so they can work across multiple devices and browsers while still being accessible to everyone regardless of device or browser used.
Wondering how your site stacks up? Try the brief self-evaluation below or head over to Accessibility Checker for a free, live scan.

Some of the most commonly missed compliance requirements
The Foxbright Content Management System (CMS) is specifically structured with guidelines that help website managers automatically meet ADA requirements. Because of this we spend a lot of time identifying some of the most common violations in order to ensure our clients stay safe.
Check out our blog post here where you can see 7 areas we've found to be common issues with school websites.
How to ensure your school website is fully ADA Compliant
If this is your first time researching website ADA compliance, or if it's been a longstanding to-do item on your list of technology upgrades, don't worry – you came to the right place!
If you're going to try to 'go-it-alone,' here is a step-by-step process we recommend for understanding the scope of potential noncompliance and a simple checklist to help address outstanding issues.
Add website ADA compliance as a top priority for the school technology management plan. This project will need a clearly defined scope, budget, and internal leader.
Decide what level of compliance will be achieved (the

WCAG

1 divides compliance into 3 categories, depending on how well your website conforms to their standards).
Create an accessibility compliance statement/policy that will help guide internal efforts and can be used externally (e.g., on the website, emails, and other school platforms).
Conduct an audit using the complete WCAG 2.01 as a baseline, or hire an outside firm with experience in school website compliance. We regularly help clients here and would be happy to work with you to find the most cost-efficient, quality way to do so!
Build a project plan for addressing identified issues that includes at least the following:


Whether all updates and changes will be handled internally (and who is responsible).
Realistic timeline for implementing changes.
The addition of a clear and easily located method that visitors can use to report accessibility issues.

Determine the internal cadence for monitoring continued compliance, keeping content compliant, training, and reporting on related projects.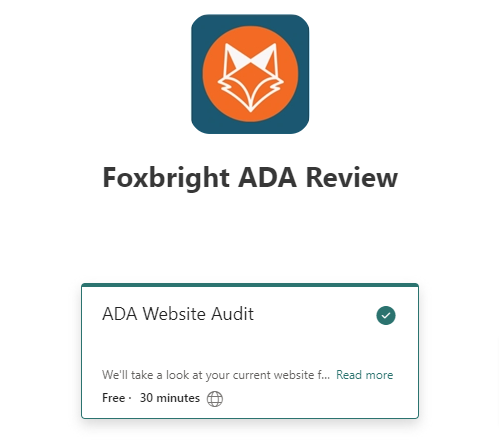 But... here's an Easier Option: Let Us Help :)
Learning, implementing, and monitoring website ADA compliance can be time consuming – especially if you're new to this topic.
For over 20 years we've helped schools get the most from their technology and ensure total compliance with ADA regulations for websites and mobile apps. We bring depth of expertise and a suite of tools that empower your school's technology with industry-leading designs, exceptional usability, custom branding, communication platforms, and much more. Plus, as mentioned above, one of our clients' favorite features of the Foxbright content management system is that it has ADA compliance built into its core programming! This keeps users from unknowingly adding non-compliant content, pages, or features to school web properties.
We hope by now that the importance of ADA compliance is crystal clear. Whether you decide to take a DIY approach, use a different provider, or go with Foxbright, a great first step is scheduling a 30min personalized audit of your site. Even if you ultimately decide to not go with us, we'd be happy to give you recommendations that best suit your needs.
Making the Internet accessible for ALL is that important!!
Thanks for reading :)
What Foxbright Clients Say
- Vicksburg Community Schools
"Our Head of Technology and I both marveled at how thorough, seamless, simple, and cost-efficient the site transfer process was last Fall and at how easy it is to maintain and change the site to fit our needs. Thank you for all you do to help us look good!"
- Saline Schools
"The PD yesterday was awesome! The hybrid you did for us was great. It was short, quick and covered the areas we wanted to in a short time. Thank you for being flexible and rolling with our PD style yesterday. Excited to be ADA compliant."
- Walled Lake Consolidated School District
"We interviewed a number of providers to find the best fit for the district. The clear winner was Foxbright. Our switch, transition and change to Foxbright was smooth. Foxbright was responsive, strategic and timely in the plan to make the change."
- Blissfield Community Schools
"We have used Foxbright for almost 9 years now and have had a great working relationship with them. Responses are always quick and courteous."
- Saline Schools
"When any issue comes up, the Foxbright support team is only an email or phone call away. They always respond very quickly to the issues which wasn't our experience with our last website vendor."
- Kent ISD
"Foxbright is a technology company that knows how to communicate, rather than a communication company that dabbles in technology."
- Wayland Union Schools
"Our experience in working with Foxbright to create the new website was wonderful from start to finish. We finished the project under schedule and our parents, staff and community are happy with the new site."
- Byron Center Public Schools
"We are very happy with this organization. They are great to work with! Sharp group of professionals and always helpful."
- Grosse Ile Township Schools
"Foxbright gave us excellent guidance on putting together a website that works well, is easy to update, projects a highly professional image, and enables us to tout the benefits of Grosse Ile living."
- Mona Shores Public Schools
"Before we partnered with Foxbright, our website was home grown, and it showed."
- Blissfield Community Schools
"We recently did a redesign of our website and we are so pleased with the new web interface. Their interface is easy to use and intuitive. Foxbright continues to keep up with the trends and over the past 9 years there have been many new features and functions."
- Muskegon Area ISD
"We been very satisfied with the quality and flexibility of Foxbright's CMS. We continue to enjoy a positive and creative partnership with Foxbright and look forward to implementing new features."
- Southfield Public Schools
"It has been a joy and a pleasure to work with Foxbright because they are such a responsive company."
- Walled Lake Consolidated School District
"Our switch, transition and change to Foxbright was smooth. Foxbright was responsive, strategic and timely in the plan to make the change."